The Recap
As our final blog post signals an end to the semester, let us take the time to recap the lessons we've learned during our digital marketing journey. Before we added the 'A' to our familiar class hashtag, we were learning how to schedule posts on Hootsuite and taking digital exams that we thought were impossible to pass. There were posts ONCE a week that Dr. Ike assigned to us, and still didn't always get done. We created meme's, went live on apps like periscope, and created content calendars to organize the social lives many of us would not pursue, all to prepare us for our Digital Hub 1.0 presentations. That was the very assignment that not only taught all of us about ourselves, our potential for the future, and the job we may want, but opened our eyes to the dreams and skills of our classmates and ComSquad family. Because all of us were able to withstand the woes of the World Wide Web, we were able to earn our 'A' and become #ADDWSU.
This semester we've had to endure the most painful lesson of all: Dr. Ike's horrible taste in snacks. Trying to figure out if spicy lollipops from Brazil are worse than the online training videos from Hubspot Academy, is something a Twitter Poll wont even be able to discover the truth of. (Positive to assume Chris would vote for the 'snakes'.) That's a big deal, especially considering how large of an impact Twitter Polls have had on our class. It is because of our 10 minute poll results, that we as a class decided to follow the path of Digital Hub 2.0 and not wander into the unknown of a Google class competition assignment.  Can you believe we're finally here?!
Our final project does consist of a bunch of requirements and criteria, but that is no big deal to us. What is a big deal is what happens after we present. After the pizza, and the grades post on pilot, and we lose one of the best professors to grace WSU's campus, some of our class graduates and enters what we've have been warned about for all of our lives, the Real World.
Job Hunting: The Digi Hive
As usual, Dr. Ike did it for the culture and gave us gems to remember as we apply for jobs and begin our careers. Here are some important tips we discussed last class in the form of Beyonce Hits and Gifs:
Pretty Hurts (BEYONCE)- Avoid vague applications.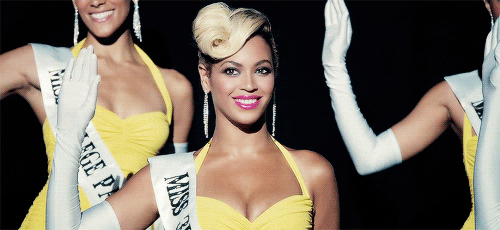 The best time spent in class is when it is spent dragging random and bogus job applications or our schools budget. It is important to remember that some applications may be a complete waste of your time. Be like the Queen and know what you want from a potential job, while still being aware that all that glitters is not gold. Sites that lack detail and mention very few examples of the work that is done, and sought for, are what you may want to avoid.
Why Don't You Love Me (I AM…SASHA FIERCE)- Its OK to not hear back for a while.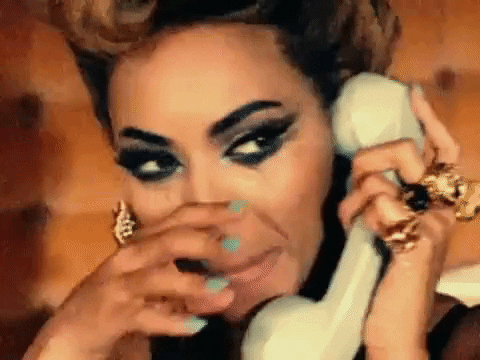 Stressing over a job that hasn't called you back after a few days is NBD. Depending on when you apply, where you application is in the pool, the amount of applicants they have left to contact, and the role of the job in question, you may not hear a response in a week or two like you want. If it helps, ask during your interview when you should expect a response or when it is appropriate for you to reach out. Chillax and stay productive. You could try applying for more jobs in the meantime or watch Beys concert footage on YouTube.
Sorry (Lemonade): Take a chance with some requirements.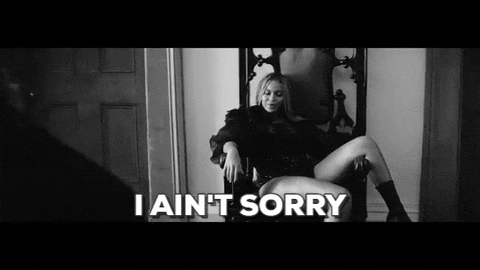 Remember Jackie from That 70's Show? Mila Kunis was actually only 14 when she auditioned for the 18 year old role. She technically did not lie about her age, she just stated that she would be 18, never saying when. Yes, I did stretch before that reach, but you shouldn't let some minor requirements stop you from applying for your dream jobs. Give or take a few years or months, if you believe you're qualified enough, go for it. We cant let "job experience of 2 years" stop us of from attempting to take a role knowing we have 2 years of class experience. Sorry, I ain't sorry.
Upgrade U (B'Day): Make everything sound better than it is.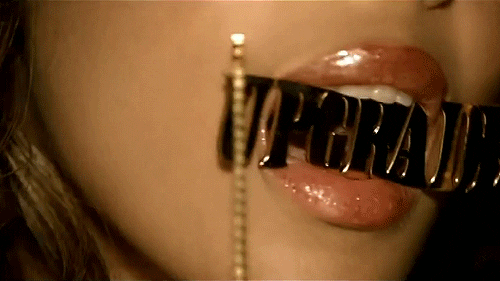 Speaking of breaking the rules, you might as well take it one step further and multiply your office size. According to Dr. Ike, you need to make everything sound better than it is. You can do that by quantifying everything. Play with your proportions and percentages and find a better way to say what you've accomplished. Saying 1 out of 4 is better than 25%. Also, saying you've tripled your clients followers is better than saying you've got them two more followers in addition to your self.
Best Thing I Never Had (4): Consider the company.
A job is more than a source of income. It literally becomes your life. When you're interviewing for a job, you cannot forget that you are the prize. They need someone good, and you are digitally certified with website management skills and you have more experienced taste buds than your competitors. You have the power to feel out a company and make the decision on if you even want to work there. Ask questions about the atmosphere and the workload. See if it is what you want your life to be like. Make it clear that you can be the best thing they've never had (humbly). We're millennials, work where you want to be.
Grown Woman (Single 2013): Weigh your options.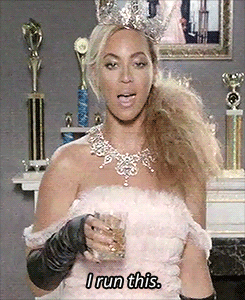 Maybe most importantly, consider your options and maximize your shmoney! You don't always have to take the first offer a job gives you. Keep in mind all of the options you have and figure out what offers the most potential for you. You could be lucky like Dr. Ike and have your offer raised, or you could be extremely salty if they move on to someone else. Lets just hope for the former of the two.
The greatest piece of advice we have heard from our professor semester after semester for the past 4 years, is one that can't be put into a Beyonce gif. (Well, it can, but I'll let him have his shine *Mentally inserts Shining-Beyonce Ft. Jay-Z & DJ Khaled gif*.) Unlike our schools budget, we don't have to cut Dr. Ike off as a resource. He has made it clear that we can always come to him for questions, advice and recommendations. Be sure to stay apart of the DigiDoneWright LinkedIn group so we can all help each other. We have the education and the skills. We also have each other. To the Graduation class (Especially Pokemon Trainer Jeremy Tyson) CONGRATSSS and Good Luck on all of your future endeavors. Dr. Ike, continue to slay where ever you go and know we'll drag any school that tries you. To everyone reading this, were almost done! OK class now lets get in Formation!

Saying Goodbye
Now is the time we press out the final touches of our Digital Hub 2.0 (remembering our SWOT analysis and Video) as well as answer some questions:
1. Do you feel prepared to perform for the digital real world (no matter your desired profession)?
2. What is your favorite (A)DDWSU Memory?
3.Which was better Digital hub 1.0 or 2.0?
4. Anymore questions for Dr. Ike on our last week?
Bonus: What is Your Favorite Beyonce Song (any variation of 'none' gets automatic F in the class final grade)?